Podcast Recommendations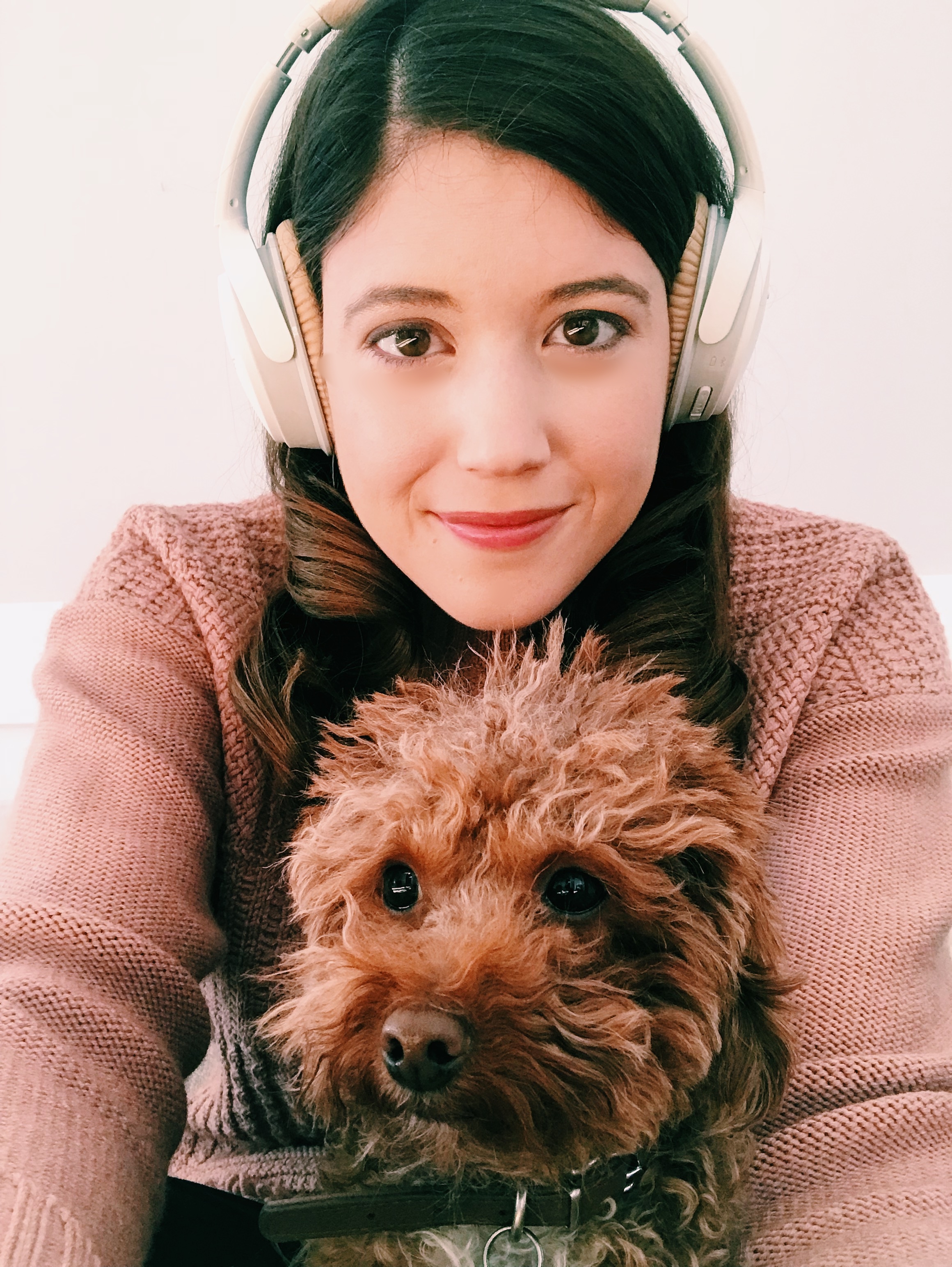 Oh man, the first thing you should know is that I just deleted the original intro to this post because it was from when I started drafting this on December 7th and everything in it was no longer relevant. WOW, Alex. You may have seen that I have some news (I need to update this site to reflect it!), and that news is actually the reason I wasn't able to keep my resolution to post twice a week. My deadline for The Darkest Legacy was so intense that my mom had to watch my dog on and off over the last two weeks of it so that I could have hours of endless, unbroken concentration to try to crank out the ending. It's definitely not my prettiest first draft, but I'm really proud of it and can't wait for you guys to read it! I'm so eager to get into edits for it that I've already started compiling a list of everything I want to tweak and change once I get my editorial letter back from my editors.
In the meantime, I'm going to try to, you know, actually blog! I started this post at the beginning of December because I get requests all the time for something like this, and just didn't have time to finish it until I turned in my draft of TDL. Enjoy!
Okay--podcasts!
Over the last few years, I've become a hardcore podcast devotee. I listen to them while getting ready in the morning, while cleaning, while walking the dog, while driving, while showering... it's maybe a little ridiculous. While on tour this past September, I mentioned that I really love True Crime and that the bulk of the podcasts I listen to are True Crime/Murder-related. You'll definitely see that's true based on the list below! (I finally had to stop listening to a few of them at night because they were giving me nightmares and, as I always say, left me feeling like there was always a 50/50 chance I could solve a murder or be murdered at any given moment.) My writing section is the weakest because, um, I spend most of my days writing and thinking about writing so sometimes I need a break from that.
Do you guys listen to any podcasts you love? Recommend me some in the comments below!
News
I listen to these while I'm making my coffee and getting ready in the morning.
NYT's The Daily - The Daily does deeper dives into a few relevant news stories each episode, while still quickly highlighting the day's other news. I really appreciate the additional context they give to world events
NPR's Up First - I used to listen to Morning Edition and All Things Considered at my day job, and I really like this distilled format.
Embedded- This is another NPR podcast... I'm still not sure if it belongs here or in the Politics category. Embedded takes a really focused look at stories that matter in today's world. This season has been dedicated to studying all of the various pieces of Trump's world, from his business interests to the people in his family and inner circle. Episodes I recommend: The Police, The Bikers, The Immigrant
Pop Culture
Call Your Girlfriend - CYG is one of the very first podcasts I ever listened to, and I still love it. Aminatou Sow and Ann Friedman have honest and hilarious discussions about the female body, pop culture, and politics from a feminist angle. They adhere to the concept of Shine Theory, and the show continues to put more and more emphasis on highlighting female (and female-identifying) politicians, artists, activists, and others who are moving and shaking society. Recent episodes I recommend: Feminist Dystopia, Political Bodies Pt 1 and pt 2, Bloody Prince Charles, Hillary
Pop Culture Happy Hour - PCHH is actually the very first podcast I got hooked on, thanks to one of my coworkers. I really love this gang and their take on all of the television, films, books, and comics you can handle. There have been a couple of episodes that taught me something about storytelling, or got me to look at an aspect of it in a different light. Recent episodes I recommend: Justice League, Tom Hanks, The Princess Bride
Song Exploder - I have to be honest with you guys... I don't know much in the way of music or songwriting, but I love this podcast and find it endlessly interesting. I think a lot of it is just that I relish getting to peek behind the curtain on creative work. This quick podcast invites artists to break down the concepts behind, and compositions of, their songs and lyrics. Recent episodes I recommend: Lin-Manuel Miranda, Goapele, Stranger Things,
Code Switch- I got turned onto Code Switch initially by simply loving Gene Demby and his many guest appearances on PCHH, and now I consider it one of the highlights of my week. Code Switch focuses on issues of identity and race. This podcast, more than any other, has expanded my view of the world and exposed me to both new ideas and some of the most insidious, subtle forms of racism that my privilege has kept me from recognizing in the past. Episodes I recommend: Disrespect to Miss-Respect, Puerto Rico, My Heart's Devotion, It's Getting (Dangerously) Hot in Here, The Unfinished Battle in the Capital of the Confederacy
Life + Advice
TED Radio Hour - This one is great for long car rides and walks. They identify TEDTalks that have related ideas and package them under one umbrella of an episode, which also includes deeper conversations between the TEDTalkers and the hosts. Recent episodes I recommend: Transparency, How Art Changes Us, Dialogue and Exchange
Dear Sugars - This is one of those podcasts that I find really soothing, even as the hosts take on tough topics. Cheryl Strayed and Steve Almond must have two of the most calming radio voices ever to the point that I think they record in a soft-lit studio surrounded by candles, drinking tea, and smiling warmly at each other. If you're not familiar with the original Dear Sugar advice column, do yourself a favor and go back and read through its archive, which is full of empathetic advice and hard-won wisdom. I really enjoy hearing Cheryl and Steve give their personal advice and view of the tough situations that people are writing in about as much as I love the different guests they bring on to tackle the subjects with them. My all time favorite episode (and the one that turned me onto the podcast) is this one about about receiving criticism about your work. Recent episodes I recommend: The Double Bind of Female Ambition, When Friendship Ends, In the Shadow of Damaged Parents, The Price of Our Dreams
The Way I Heard It with Mike Rowe - This podcast recommendation came via my future sister-in-law, Hayley! I debated whether or not to include this here or under my storytelling category, because I listen to it mostly for storytelling purposes (AND because he genuinely picks truly interesting stories). When I take in any story, my brain is operating on two different frequencies: writer and reader/listener, and I LOVE how Mike constructs his stories and trying to guess what the twist is or who the subject is before he reveals it at the end. These are really short, ten or so minutes, and I like to save up a few and listen to them while I'm driving. Recent episodes I recommend: Strange Bedfellows, How Soon They Forget, The Ride of His Life, Better Late Than Never
This American Life - TAL is possibly one of the most popular podcasts and radio programs in the country. The topics are so wide-ranging, human, and endlessly interesting. Some episodes are incredibly moving, others are laugh out loud funny, but they always feel authentic and real. They've actually compiled a list of favorite episodes, so I'll share that instead of trying to come up with one of my own.
Radiolab - ... aaaaand Radiolab is the other program that's incredibly popular and covers a huge range of fascinating stories and topics. They describe themselves as a "radio show and podcast weaving stories and science into sound and music-rich documentaries," which is actually 1000% better than anything I could come up with for describing it. Recent episodes I recommend: The Girl Who Doesn't Exist, The Gondolier, The Ceremony, Breaking News
Invisibilia - What's that, Alex? ANOTHER NPR PODCAST?? Listen, I can't help myself. My podcast journey originated with listening to NPR every morning and they got me good. Invisibilia is different from the others in that it focuses on human behavior, beliefs, and the "unseen forces" that drive our lives. Like the others, each episode is really rich and amazing narrative storytelling. Episodes I recommend: Emotions, The Culture Inside, True You
Oprah's Super Soul Conversations - These episodes are available on Podcast platforms or on her website as videos, just as a general FYI. I'm in no way a religious person, but I'm someone that has personal faith and a belief in the power of meditation, positive thinking, and community. I've found a lot of fantastic life advice here, and sometimes it's just nice to think about a big idea in a different way. Episodes I recommend: Joe Biden, Shauna Niequist, Sheryl Sandberg
True Crime
Dirty John - YES. It is THAT GOOD. And YES. YOU SHOULD LISTEN. I was basically screeching while listening to the last episode. The storytelling + the look into the human psyche is incredible.
My Favorite Murder - MFM is like a club at this point--I now decide who gets to be my friend by whether or not they know what the acronym SSDGM means. (Just kidding, but it is SO FUN to find other murderinos who listen!) Karen and Georgia put out two episodes a week, Monday is a shorter episode of "hometown murders" where listeners write in with stories and Thursday is the main, longer episode, where they tell one another about an interesting murder case. I always recommend making it a full-on listening project and starting at the beginning, but there are so many episodes now that... it's a big ask. I struggle to pick favorite episodes, but episode 85 also made me screech while listening to it while getting ready for a tour event this past September and now I'm convinced someone is living inside of my walls every time I hear a weird noise.
Last Podcast on the Left - LPotL covers all things horror, real and imagined. It's a bit more wide-ranging than MFM when it comes to topics. I like that they'll sometimes split a story up over a few episodes, which allows them to go a little bit deeper. Episodes I recommend: Episode 284: Fire in the Sky, Episodes 274-277 Oklahoma City, Episode 268: The Philadelphia Experiment
Sword & Scale - When I recommend S&S to people, I usually mention that it's not for the faint of heart. S&S, more than any other true crime podcast I listen to, is the one that usually leaves me the most unsettled and emotional. I think a lot of it is the fact that he'll use clips of the 911 calls in the case he's describing, and those are always an incredibly tough listen. Rather than recommend you a podcast episode that might leave you feeling incredibly unsettled, I recommend taking a look through the archive.
Sworn - Sworn is a new podcast that delves into the legal cases and the emotional fallout of them. There are only a few episode sets so far, but I've enjoyed hearing more about the trials, which many true crime podcasts don't cover as extensively. Episodes I recommend: The Death of Cooper Harris (3 episodes)
Up and Vanished - Sworn and Up and Vanished have the same creative team behind them, only this one focuses on one case: the unsolved disappearance of Tara Grinstead eleven years ago. Each episode digs into a different aspect of the mystery, interviewing people of interest, revealing who Tara was as a person, and trying to track down new leads.
Generation Why - Much like MFM, this is two friends (in this instance, dudes) discussing true crime cases, only their focus leans more toward unsolved mysteries and murders. As someone who needs to understand the rationale behind these crimes and some kind of resolution, many of these episodes are as heartbreaking as they are frustrating, because there are still so many questions left to be answered. Episodes I recommend: Stacey Castor, The Backpack Killer, The Acid Bath Murderer, The Co-Ed Killer, Ryan Widmer, The Springfield Three
True Crime Garage - TCG is, you guessed it, two friends discussing different murder and disappearance cases. Like LPotL, they go deep into each case and analyze it from many different sides, usually over several episodes. Recent episodes I recommend: Episodes 144-145: Kenneka Jenkins, Episodes 165-166: True East Murders, Episode 160 D'wan Sims
In the Dark - This is another podcast that focuses on one particular case (so far--season 2 next year will cover a different one), this one the abduction and murder of Jacob Wetterling in Minnesota 27 years ago. The podcast covers police mishandling of the case, broader cultural implications, and--amazingly enough--the case being solved as the podcast was in production.
Someone Knows Something - SKS is now in its third season, with each season covering a different unsolved case. Season 1 is centered on the disappearance of Adrien McNaughton, a five year-old boy who disappeared into the woods never to be seen again, season 2 on the disappearance of Sheryl Sheppard, and the current season, season 3, on the murder of Charles Moore and Henry Dee, two black teenagers who were murdered in 1964.
Accused - One more true crime serialized podcast for you! I haven't listened to season 2 yet, but I thought season one, about the 1978 unsolved murder of Elizabeth Andes was really well done. If I was frustrated about the back and forth Who did it? and the two trials, I can only imagine how her family felt.
Heaven's Gate - If you've had your fill of listening to podcasts about disappearances and murders, may I interest you in a podcast about the Heaven's Gate cult? I listened to this one over my Christmas break from work and was riveted by the origins and personalities behind the cult, as well as listening to the families who lost their loved ones after trying to save them from their fates.
Politics/Government
Pod Save America - I'm a lifelong registered Democrat, and I tend to stay in my lane when it comes to political podcasts--just a word of warning if you're more conservative-leaning. While I think it's important to expose yourselves to other viewpoints, I also mostly listen to PSA while driving or walking my dog, and I don't enjoy feeling frustrated or angry while listening to either of those things, hence why I stay away from conservative podcasts for the most part. I've come to really like the Crooked Media crew and appreciate that they're making more strides to be more inclusive with the voices they bring on. I also really enjoy their interviews with politicians and activists, and think they're doing more and more to help try to engage the liberal-leaning base.
Pod Save the World - I find foreign policy to be pretty intimidating to learn about, but I appreciate how well Tommy and his guests break down really important international issues in a way that's thought-provoking and easy to understand.
Stay Tuned with Preet - While I wish Preet Bharara was still U.S. Attorney for the Southern District of New York, I'm selfishly glad to get his insight on current events each week. He has a very fair, even-keeled point of view that feels much needed in a very partisan environment.
More Perfect - I am OBSESSED with this great Radiolab spin off about SCOTUS. It's helped me realize how little I know about this branch of our government and how many truly fascinating stories and cases I've never heard of. Episodes I recommend: Justice, Interrupted, The Architect, Citizens United, Object Anyway
The New Washington - This is a NYT podcast that's branched off from The Daily to feature longer interviews with important movers and shakers in Washington, DC.
History and Folklore
Lore - LORE!! I've been listening to this podcast nearly from its beginning and it's the highlight of my day whenever a new episode shows up in my feed. I love how Aaron constructs each story to maximize the storytelling potential and links real world fears to folklore and the supernatural. Some of these stories are creepier/scarier than others, but they're all fascinating. The episode Unboxed DEEPY unsettled me, omg. Episodes I recommend: Within the Walls, Missing the Point, In the Bag, The Mountain, When the Bow Breaks, All the Lovely Ladies, Broken Fingernails
The Dollop - You guys know I love my American History... well, I love that the Dollop still surprises me and covers topics I know nothing about, or comes at familiar stories from angles I've never investigated. The format is simple: Dave reads a story from history to Gareth, and now I'm seriously wondering if there's an unspoken podcast rule that you can only have two hosts. Recent episodes I recommend: The Great Diamond Hoax, The Caning of Sumner, Lincoln's Body, The Almost Founding Father
Revisionist History - Bless Malcolm Gladwell, who was clearly born for this podcasting thing. I was struggling to figure out how to describe this one, so I'm going to borrow from the podcast's actual description and say that it reinterprets something from the past, and that ranges from the Civil Rights movement to McDonald's french fries. Episodes I recommend: The Lady Vanishes, Hallelujah, The Foot Soldier of Birmingham, The King of Tears, McDonald's Broke My Heart
Smithsonian Sidedoor - I usually describe Smithsonian Sidedoor as being Smithsonian "deep cuts." They imagine it as digging deeper into the Smithsonian Institute's vaults and finding interesting stories half-lost to history. Both work! Episodes I recommend: The Many Lives of Owney the Dog, Masters of Disguise, Grandma Turned Me Into a Ghost, If These Bones Could Talk, You Do You
Storytelling
88 Cups of Tea - Yin Chang is a wonderful human and a fabulous interviewer--I had so much fun chatting with her on my episode (#shamelessplug), and I love how deep she gets into the creative process with each guest.
First Draft Podcast - The truly awesome Sarah Enni does fabulous interviews with YA and MG authors that I think you guys will love, if you're not already listening!